LG Screw Vacuum Pump
---
LG high vacuum screw vacuum pump series
LGB energy saving and low noise screw vacuum pump series
LGF, LGBF anticorrosive screw vacuum pump series
---
Product Summary:
---
---
---
---
Dry screw vacuum pump is composed by a pair of parallel helical rotor and pump case . The two helical rotors are installed in the pump body by bearing support through fine dynamic balance correction, and there is no friction with them and a certain gap is maintained, forming multiple sealing cavities. The rotor makes synchronous high-speed reverse rotation in the pump housing through the year-on-year gear, and pushes the gas of each sealed cavity from the inlet to the exhaust end, resulting in the inhalation and exhaust effect.
The pump runs smoothly with low noise and the working cavity doesn't need lubricating oil. Therefore, dry screw pump can vacuum containing a large amount of water vapor and a small amount of dust gas occasions, higher limiting vacuum, lower power consumption, energy saving and maintenance free, etc. Screw pump especially in the electronics industry and chemical pharmaceutical industry has great advantages.
Screw vacuum pump is a new generation of dry vacuum pump and can replace most of the conventional oil vacuum pump. It can effectively eliminate the medicine chemical industry process of pollution emission, also can effectively reduce the vacuum pump oil vapor pollution and reduce the energy consumption cost.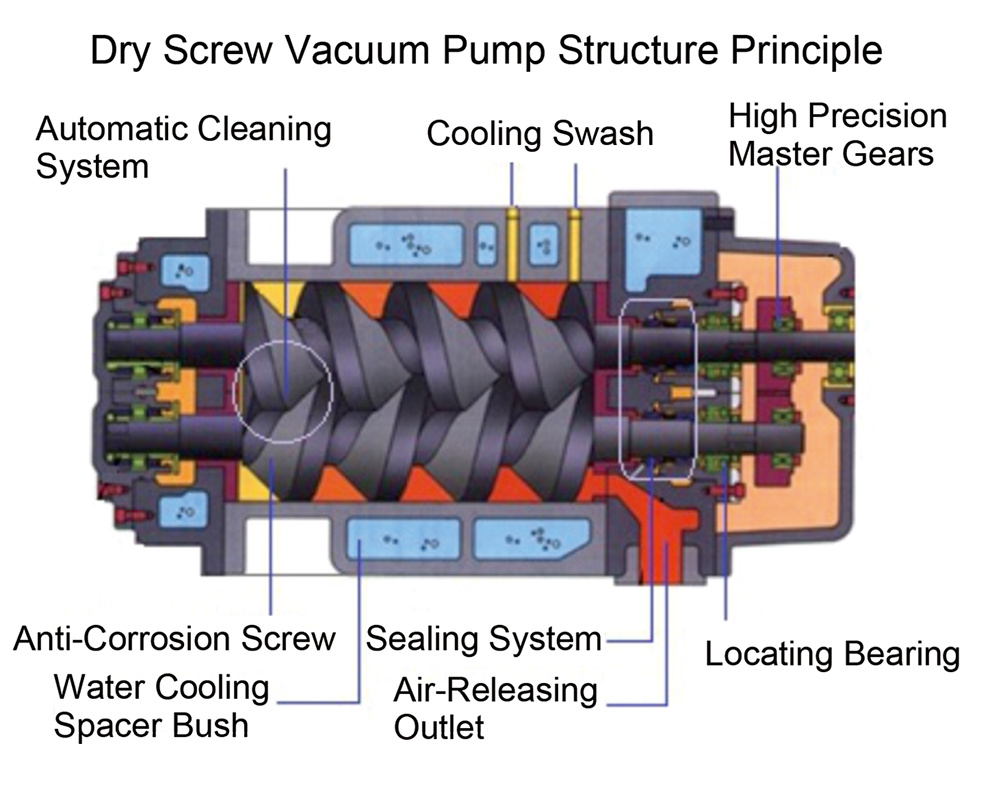 Main Industries
1. Chemical and pharmaceutical products: product distillation, drying, degassing,
concentration, material transportation.
2. Electrician: transformer, transformer, epoxy resin vacuum pouring, capacitor
vacuum oil immersion, vacuum pressure immersion.
3. Metallurgy: special steel smelting, vacuum induction furnace, vacuum
desulfurization, degassing.
4. Aeronautics and astronautics: the space shuttle carries the spacecraft's orbital
module, the return capsule, the rocket attitude adjustment module, the space suit, the
astronauts' space exit module, the aircraft launch and other vacuum simulation tests.
5. Drying: vacuum drying with variable pressure method, dry coal oil and gas tank,
dry wood, freeze drying of vegetables, etc.
6. Industrial furnace: vacuum brazing, vacuum sintering, vacuum annealing, vacuum
pressure gas quenching, vacuum dehydroxylation, etc.